【Specifications】6' long, 8" outer wide, 6.3" inner wide,
6ft:using height range is 6.3''-17.7",recommended using height is 11.8''.
7ft:using height range is 7.1''-20.7", recommended using height is 13.8''.
8ft:using height range is 7.9''-23.6",recommended using height is 15.7''.
Before purchasing, please make sure that our product size is suitable for the place you want to use.
【Versatile Use】This wheelchair ramp with plastic handle is made for doorways,steps,stairs,trucks,scooters,perfect for use in any area, both indoors and outdoors. If the plastic parts are damaged due to transportation, please contact us for mailing.
【Anti-skid Pad】Anti-skid pad in the top of the wheelchair ramp for safe use and prevent slip from the using occasions.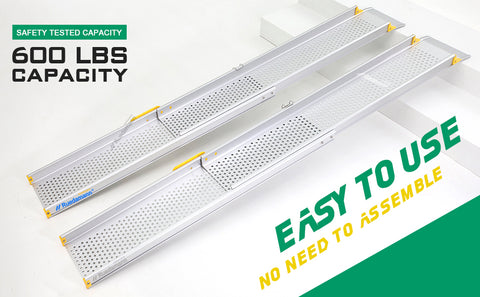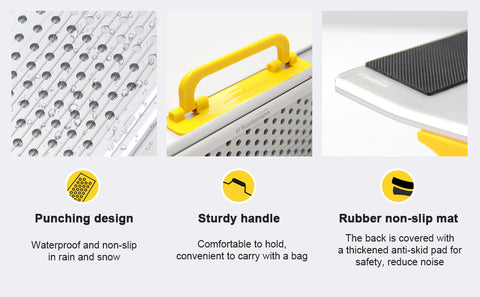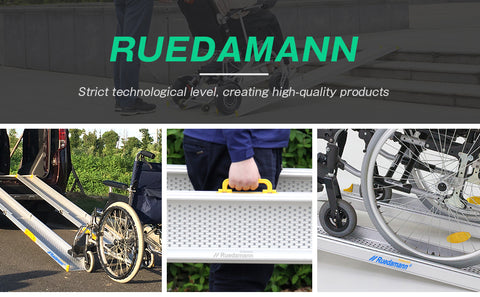 【Adjustable length】The locks in the wheelchair ramp are made of stainless steel. The bending degree of the locks in the ramp can be adjusted by using tools.You can use the locks to make the wheelchair ramp at any length you want.
【600lbs Capacity】Durable aluminum construction holds up the wheelchaie ramp to 600 lb capacity. Aluminum material is relatively soft, the ramp may bend slightly when supporting heavy weight, but its resilience is high, please rest assured to use. Perfect for scooters,bicycles and manual wheelchairs (not good for power chairs).