10% OFF Available to Sitewide!
Regular price
Sale price
$112.99
Unit price
per
Sale
Sold out
【Lightweight and Easy Carry】The folding loading ramp is manufactured from lightweight aluminum with about 13 lbs (5.9kg). Unfolded size: 70.9"L x 9.8"W x 1.6"H (180 x 25 x 4cm). Inner width 8.5" (21.5cm). Folded size: 36"L x 9.8"W x 5.7"H (91.5 x 25 x 14.5cm). Foldable design for easy carrying and storage. Heavy duty hinges, joints, and crossbars are welded, this allows for the ramp to be folded and unfolded countless times without malfunctions.
【Safely Load and Unload】The yellow warning sticker of the truck ramp can be seen at night for safety use. Built with strong and durable rustproof aluminum construction. High quality hinges are durable and provide excellent load-bearing. Recommended using height is 20.3" (51.5cm). Suitable for vehicles with tires section width less than 7.5" (190mm), ground clearance higher than 1.6" (4cm). Before purchasing, please make sure that our product size is suitable for the place you want to use.
【Strong Traction】Non-slip rubber pad placed on the back at the top of the motorcycle ramp for safety use and prevent slip from the using occasions, and it can also eliminate the noise in use. Stick with non-slip tape on the surface to provide skid resistance. The ATV ramp surface is gentle, which can prevent the vehicle from slipping. The side height plays a protective role during the driving of the vehicle.
【Simple to Use】Extended tail-plate design at both ends allows the ramp to touch the ground with a larger area, best load bearing, can holds up to 600 lbs (300kg), and easier to go up the ramp. No need to assemble and simple to set up. Aluminum alloy has high hardness, toughness and resilience, please use it with confidence.
【Versatile Occasions】The loading ramp can be used for loading bicycle,motorcycle,dirt bike and other two wheeled vehicles. And also can be used for ATV, UTV, truck, quad, carts, trailers, pickup trucks, lawn mower, lawn tractors, snow blower equipment, into sheds, barns, and garages. You can purchase 1pc or 2pcs according to the occasion of use. Do not ride equipment up or down the ramp.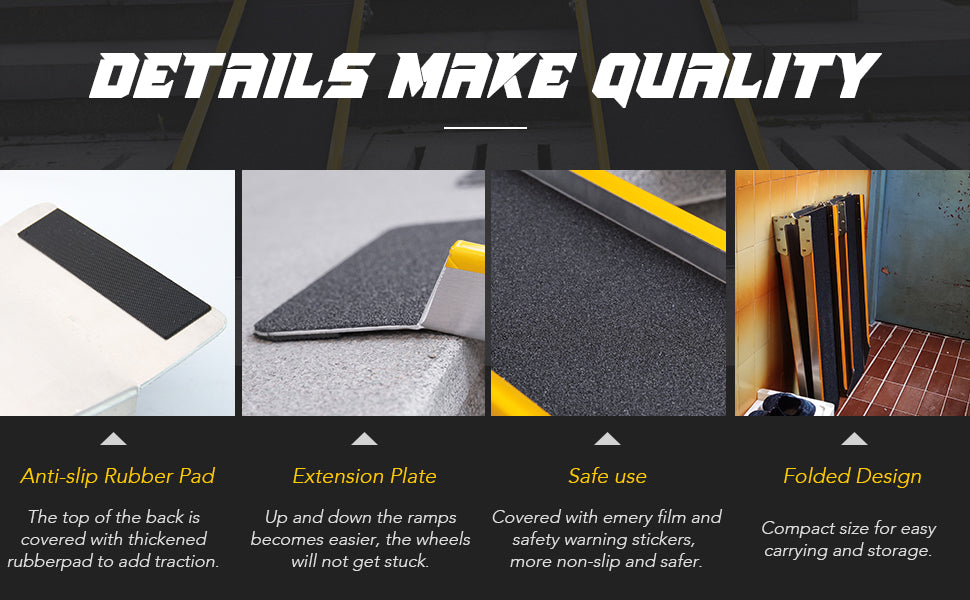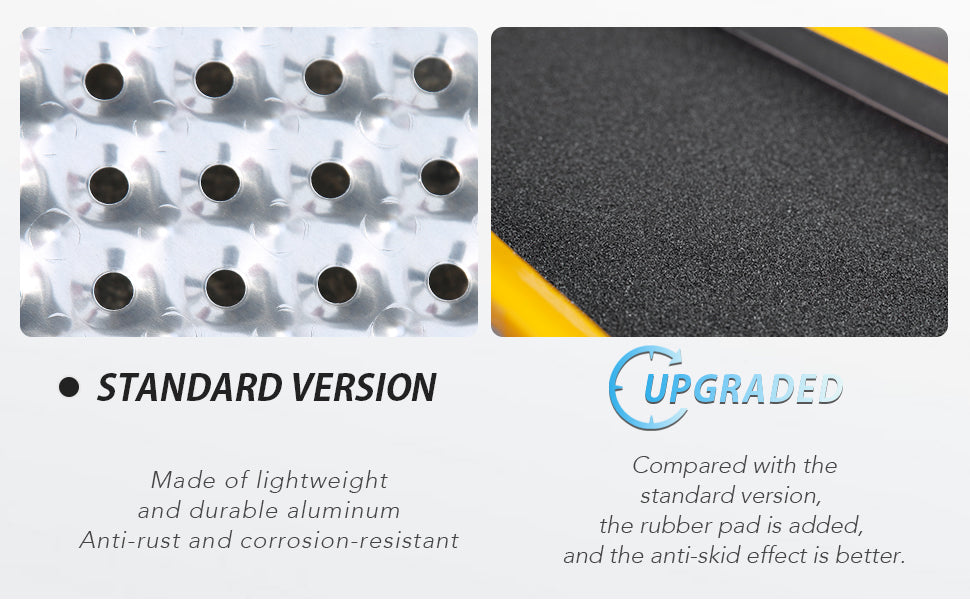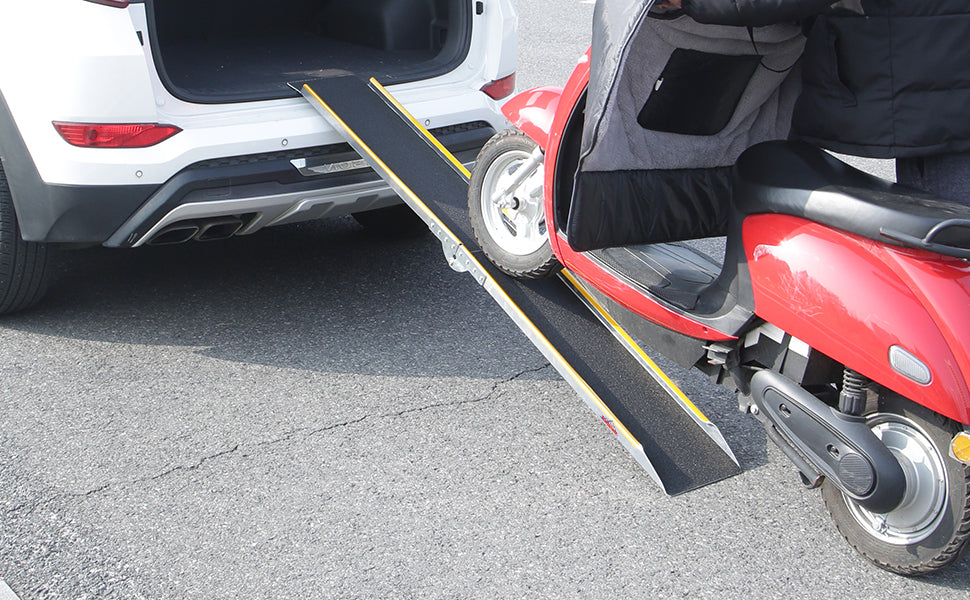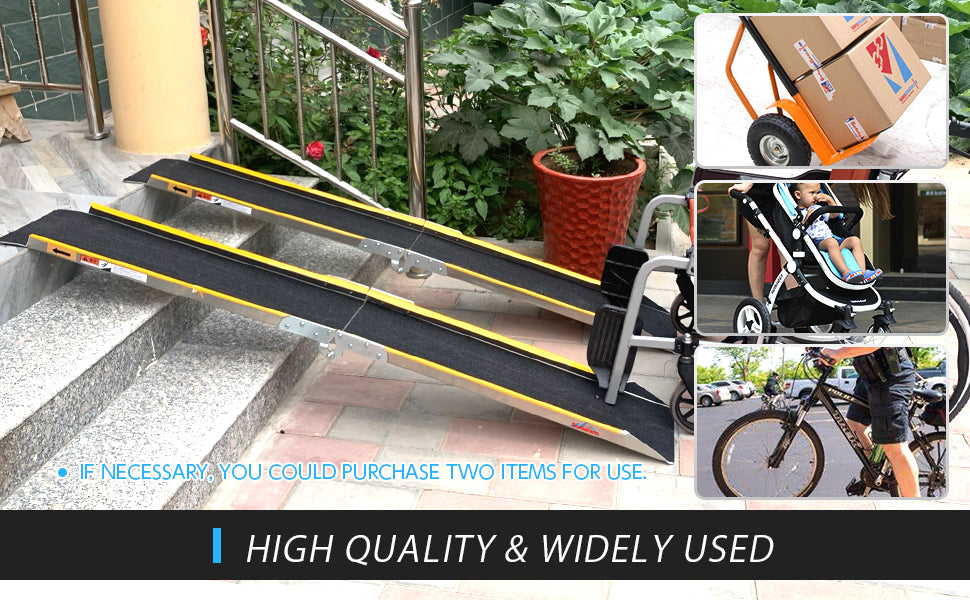 Share
View full details
Collapsible content
Shipping

We will deliver the goods within 24 hours after receiving the payment, except for weekends and holidays.Normally, delivery to the lower 48 states of the United States usually takes 3-7 working days(except special circumstances).
Warranty

Warranty period of our ramp is 1-year, artificial damage is not within the warranty period.
Contact

Whatever you need, wherever you are, we're happy to help you.

Your message will be sent to our customer service center. We will respond to you as soon as possible.
How to choose a ramp?

Ruedamann wheelchair ramps are one of the best-selling mobility ramps in the United States and are widely used in the commercial, transportation industry, healthcare and nursing home industries, and private individuals. We know you may also be wondering how to choose the best ramp, so we've created this guide to help ensure you get the best ramp for your purposes.

1. First you need to measure the steps, stairs, thresholds, curbs, vehicles, etc. where the ramp will be placed:

(1) Measure the total vertical height from the ground to where the ramp is placed, which we call the "vertical height". (See below)



(2) Measure the total length of the steps to ensure the ramp is long enough to overcome the steps.  (See below)



 

2. Understand the slope ratio.

Common slope ratios are: 1:4; 1:6; 1:8; 1:10 (see the figure below).



For manual wheelchairs, our recommended slope ratio is 1:6. For example, for a 1 cm rise (vertical height) you will need a 6cm long ramp. If you have a larger space for the ramp, you can buy a longer ramp than recommended as this means you will have less effort and easier going up and down the steps. Note: 1:4 is the maximum height.

3. We also recommend checking the threshold and whether there is any height inside the steps.

For situations where the interior height is low, bridge-type sill ramps are often the perfect solution. ​

4. Choice of width.

Your ramp should be wide enough to accommodate your wheelchair/scooter, but narrow enough to accommodate your threshold. For this reason, we offer a range of widths for you to choose from.

Our normal folding ramps are 72cm wide, and we also offer extra-wide folding ramps with a width of 85cm. Telescopic ramps require you to check whether the tire width of the wheelchair or scooter you are using exceeds the inner width of the telescopic ramp. The inner width of our telescopic ramps is in the range of 15-25cm.

Note: Since the side height of all telescopic ramps is 5cm, the chassis height of the wheelchair must be greater than 5cm. If the bottom of the chassis is too low, the wheelchair will get stuck on the side tubes of the ramp.

5. Contact us.

If the above article does not answer your questions, please contact us with your questions.